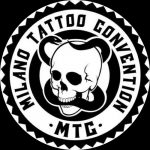 Killer Ink Tattoo på Milano Tattoo Convention
mars 3, 2017

mars 3, 2017

no

https://www.killerinktattoo.no/skin/frontend/killer/default/images/logo.svg

https://www.killerinktattoo.no/
Milan er kanskje mest kjent som en modehovedstad, men de vet virkelig hvordan man gjør en 'killer' tatoveringskonvention!
Vi dro til Italia i begynnelsen av februar for den 22 årliga Milano Tattoo Convention, som i år byttet plass og er nu holdt på den største kongressenteret i Europa, Milano Congressi.
I løpet av de tre dagene har vi filmet denne videoen som inneholder noen av våre gode venner og sponsede kunstnere, og viser når de jobber med noen fantastiske tatoveringer.
Sjekk det ut nedenfor!
Som prikken over i under 2017 utgaven av Milano Tattoo Convention, vant vår sponset kunstnere Ryan Smith prisen 'Best of Show' med en utrolig tatovering han gjorde med Jay Freestyle.
Priser gikk også til våre sponsede kunstnere Debora Cherrys ('Best of Friday') og Sandra Daukshta ('2nd Best of Saturday'), mens vår gode venn Benjamin Laukis vant 'Best of Saturday'.
Sørg for å sjekke ut våre sosiale medie kontoer for å se hvilke konvensjoner vi vil delta ved!