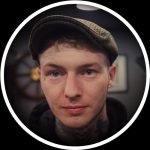 Luke Sayer Intervju
Mai 16, 2019

Mai 16, 2019

no

https://www.killerinktattoo.no/skin/frontend/killer/default/images/logo.svg

https://www.killerinktattoo.no/
Luke Sayer har opparbeidet seg et glimrende rykte og en enorm følgerskare over årene med sine realistiske svarte og grå tatoveringer. Nå er det vår tur til å sette søkelyset på ham i det nyeste intervjuet vårt.
Vi og Luke snakket om alt som handler om tatoveringer, deriblant hvordan han greide å vinne den innledende utgaven av E4s Tattoo of Artist of the Year i 2017.
Sjekk det ut!
Luke Sayer, en Killer Inks Sponsored måneds artist, jobber for tiden i sin egen tatoveringssjappe i Milnthorpe i Cumbria, hvor vi filmet denne videoen.
Du kan holde deg oppdatert på tatoveringene hans ved å følge ham på Facebook, Instagram og Twitter!