Stigma-Rotary® Hyper V3 tatoveringmaskin - Rød
SKU STIG-HYPV3-RED
På lager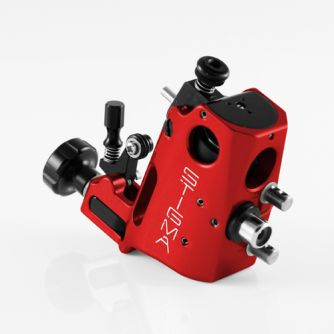 Med en vekt på bare 115g, er denne innovasjonen fra Stigma-Rotary® en av de mest fleksible rotary maskinene på markedet. Den forbedrede teknologien tillater Hyper V3 å settes opp mykere en noen gang. Optimale forutsetninger for å skape best mulig tatoverings resultater.
Hyper V3 leverer nye forbedringer inkludert:
Super myk til super hard (6.0mm to 3.6mm) justering på sekunder.
Presisjon justerbar nål stabiliserer, ingen flere gummistrikker!
Ergonomisk og balansert ramme
En av de mykeste rotary maskinene tilgjengelig på markedet.
Hyper V3 har både RCA og clip cord kobling for maksimal brukervennlighet og er også en god all round maskin.
Tekniske detaljer
Vekt: 115 gram
slag: 3.6mm - 6.0mm manuelt justerbar
Motor: 4.5 watt produsert i Sveits
Kobling: RCA og clip cord kobling på alle Hyper V3
Justering: Manuell Lining, shading og Colouring
Anodisert flyaluminium ramme
Levering
Alle bestillinger betalt for før Kl 16:00 blir sendt samme dag (på en arbeidsdag) via tjenesten du har bedt om.

De gjeldende frakt varierer med størrelsen og vekten på din bestilling, og starter fra kun Kr 159 med UPS. Neste virkedag leveranser er også tilgjengelig i enkelte områder
Garanti
Vennligst klikk her å se på garantiinformasjonen.
You might be interested in a cable?