Tribal - Volume 1
SKU BK-TRIBALV1
Utsolgt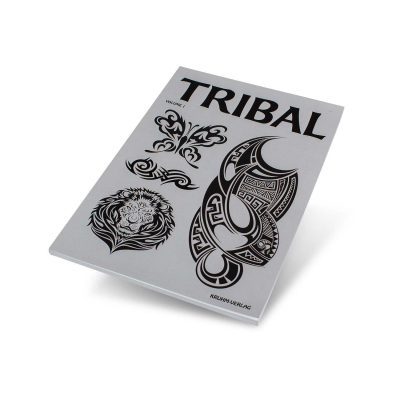 Begrepet 'Tribal' blir vanligvis funnet i vokabularet til tatoveringsindustrien. Tribal er ikke bare det eldste bildet og symbolet som har blitt formet på menneske hud, men også en av de mest graverte motiv stilene.
Content
Side 04-11: Historie
Side 12-15: tribal originaler
Side 16-19: Mini-Tribal
Side 20-23: Tribal medium
Side 24-29: Maxi-Tribal
Side 30-35: Tribal big
Side 36-37: Tribal Skull
Side 38-41: Heart Tribal
Side 42-43: Colored Tribal
Side 44-47: Steiss-Tribal
Side 48-51: Butterflies
Side 52-57: Dragon Tribal
Side 58-59: Horse Tribal
Side 60-61: Owl Tribal
Side 62-63: Dolphin Tribal
Side 64-65: Eagle Tribal
Side 66-67: Birds various
Side 68-69: Dogs and Wolves
Side 70-71: bears and bulls
Side 72-73: Taurus Tribal
Side 74-77: Motorcycle Tribal
Side 78-79: Auto-Tribal
Side 80-83: Tribal frame
Side 84-87: Flower Tribal
Side 88-93: Wing Tribal
Side 94-95: Metallic animals
Side 96-99: animals different
Side 100: Positioning Tribal
Side 100-102: New Books
Tekniske Detaljer
Sider: 102
Cover: Mykt
Størrelse: 21 cm x 29,5 cm
Språk: KUN TYSK
Levering
Alle bestillinger betalt for før Kl 16:00 blir sendt samme dag (på en arbeidsdag) via tjenesten du har bedt om.

De gjeldende frakt varierer med størrelsen og vekten på din bestilling, og starter fra kun Kr 159 med UPS. Neste virkedag leveranser er også tilgjengelig i enkelte områder
Garanti
Vennligst klikk her å se på garantiinformasjonen.