Bavarian Custom Irons Antichrist tatoveringmaskin - B+G Shader
SKU GM-BCI-ANTIC-SHA
På lager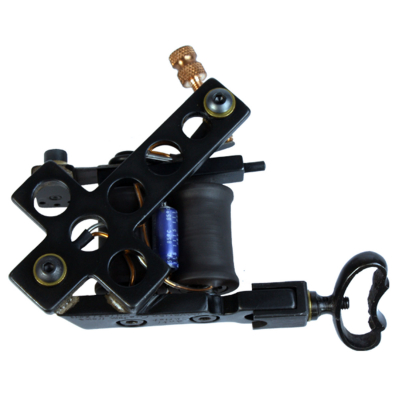 Killer Ink er stolte av å kunne levere deg Stefan Fischer's Bavarian Custom Irons. Stefan har bygget tatoveringsmaskiner siden 2006. Alle maskinene blir håndlaget i Bavaria, Tyskland uten kompromiss for kvalitet og leveres med livstidsgaranti.
Dette er Antichrist maskinen satt opp som black and grey shader.
Tekniske Detaljer
Vekt: 220g
spoles: Hand-wound 8 wrap with Shrink Black design.
fjærer: Høykvalitets laserkuttet stål
Alle maskiner kommer i en eksklusiv metallboks med ektehetsbevis.
Garanti: Livstid
NB: Alle maskiner har små variasjoner i utseende i forhold til illustrasjonsbildet. Bavarian Custom Irons håndlager alle maskiner!
Levering
Alle bestillinger betalt for før Kl 16:00 blir sendt samme dag (på en arbeidsdag) via tjenesten du har bedt om.

De gjeldende frakt varierer med størrelsen og vekten på din bestilling, og starter fra kun Kr 159 med UPS. Neste virkedag leveranser er også tilgjengelig i enkelte områder
Garanti
Vennligst klikk her å se på garantiinformasjonen.