Black Tattoo Art II: Modern Expressions of Tribal - Edition Reuss
SKU BK-BTA2
På lager
kr 778,00
kr 778,00
kr 480,00
kr 480,00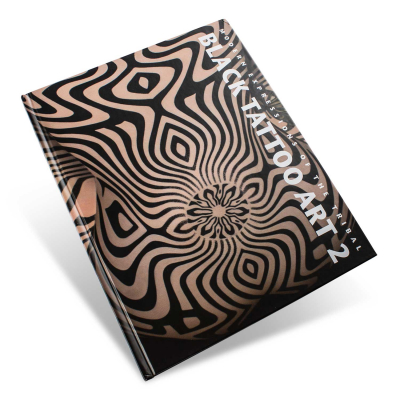 Black Tattoo Art II: Modern Expressions of the Tribal, den andre utgaven av det som kalles "Bible of Blackwork Tattoos" fortsetter med den første bokens fotografiske reise verden rundt. Boken viser de beste tatoveringene som fanger magien til den eldgamle kunstformen gjennom en utrolig moderne tolkning på kroppen.
Gjennom 448 sider, med over 600 inkluderte bilder kan leseren utforske alle de forskjellige retningene tatoveringskunsten har beveget seg i. Alt er mulig, og alt er tillatt: black lines, dots, plains, hand-poked eller tatoveringsmaskiner. Den kreative siden er også ubegrenset: nydelige tradisjonelle tribal tatoveringer, utfyllende mønster og billedlige design gir nesten en total frihet for utradisjonelle tatoveringer.
Det utrolige mangfoldet av tatoverings design presentert i Black Tattoo Art II er kommer fra et imponerende utvalg av internasjonale tatovører: 80 topp tatovører fra St. Petersburg til Sao Paolo, Austin to Aotearoa, Barcelona til Brooklyn også videre. De deler sin kreativitet, innovasjon og sjel presentert i deres bilder av tatoveringene de har skapt gjennom boken. Boken inneholder fem kapitler med korte introduksjoner: Ornamental/Neotribal, Dotwork, Celtic/Nordic, Abstract/Art Brut, og Traditional Revival. Til sammen dekker disse stilene de uendelige mulighetene som kan lages med nål og blekk.
Tekniske Detaljer
Stort format: 24.5cm x 31.5cm
Tekstet på engelsk og tysk
Levering
Alle bestillinger betalt for før Kl 16:00 blir sendt samme dag (på en arbeidsdag) via tjenesten du har bedt om.

De gjeldende frakt varierer med størrelsen og vekten på din bestilling, og starter fra kun Kr 159 med UPS. Neste virkedag leveranser er også tilgjengelig i enkelte områder
Garanti
Vennligst klikk her å se på garantiinformasjonen.