Kuro Sumi Imperial Tattoo Ink - Marta Make Fine Art Black and Grey sett 6 x 44 ml
SKU IMMMBGS1.5
På lager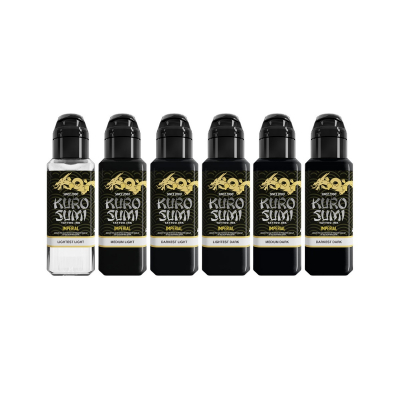 Kuro Sumi ble opprinnelig laget i Japan. Den nye Imperial-serien er helt i samsvar med de nye EU REACH-forskriftene, og har de beste råmaterialene og den beste produksjonsprosessen. Resultatet er et perfekt og levende tatoveringsblekk.
Fine Art Black and Grey-settet ble laget av Kuro Sumi i samarbeid med Pro Team-kunstneren Marta Make og blir med i den nye EU REACH-kompatible Imperial-serien. Dette blekksettet har 6 blekk som omfatter et bredt spekter av svart- og gråskalaen, slik at tatovører kan skape lys og skygge i arbeidet sitt uten å måtte blande nyanser.
Kuro Sumi Imperial Marta Make Fine Art Black and Grey-settet inneholder følgende farger:
Darkest Dark
Medium Dark
Lightest Dark
Darkest Light
Medium Light
Lightest Light
Nøkkelfunksjoner:
Størrelse: 44 ml
Fullt i samsvar med de siste EU REACH-forskriftene.
Levering
Alle bestillinger betalt for før Kl 16:00 blir sendt samme dag (på en arbeidsdag) via tjenesten du har bedt om.

De gjeldende frakt varierer med størrelsen og vekten på din bestilling, og starter fra kun Kr 159 med UPS. Neste virkedag leveranser er også tilgjengelig i enkelte områder
Garanti
Vennligst klikk her å se på garantiinformasjonen.